SOUTH WEST CONTAINER CASE STUDIES
Shipping containers have such a fundamental basic design (they're basically metal boxes) that they can be used for a variety of applications. Bristol Containers have supplied both modified containers and basic storage containers to a wide range of clients across various industries, as well as to private individuals. We have provided a small selection below, if you would like to discuss your container requirements, please call 0333 600 6260 or click to complete a Quick Quote form below. We have a dedicated and professional sales team ready to support you from initial enquiry right through to after sales satisfaction.
Bristol Container Quick Quote >>
BOXPARK OFFICE STRUCTURE
We built an office structure using 20 shipping containers for Boxworks in Bristol; part of Engine Shed.
SHOE RETAILER STORAGE
We supplied a 20ft container to a footwear design and manufacturer. They required storage for excess retail stock at their site in Bristol.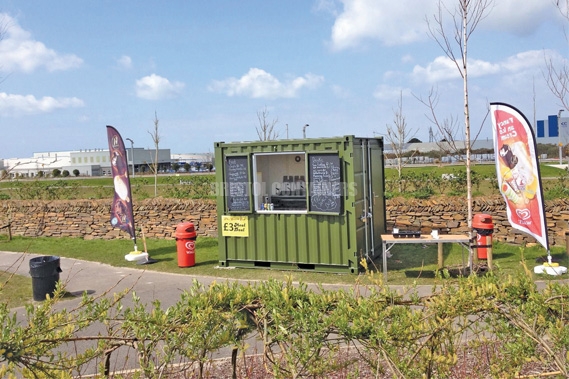 SNACK BOX CONTAINER
We supplied Heartlands in Cornwall with a 10ft container which was used for serving snacks and refreshments out of.
MODIFICATION TESTIMONIALS
---
20FT CONTAINER WITH SHELVING AND ELECTRICS (MACHINERY SUPPLIES)
★★★★★
"
The container looks very smart indeed, thank you for your work on it.
"
CUSTOM BUILT OFFICE CONTAINER (SCRAP METAL SUPPLIER)
★★★★★
"
I am very happy with your service and the overall product you delivered, the container is exactly what I wanted. The delivery driver was great also.
"
ORDANCE EXPLOSION VIEWING PLATFORM (ORDNANCE COMPANY)
★★★★★
"
I can't praise the containers that were delivered enough. The units themselves were perfect for what we required and we were absolutely shocked at how good they were when they came on site. There are 30 people in the containers right now viewing explosions and they are getting used daily, I will take some photos of them in use and send them over. I will be coming back to buy some more, because everyone was so impressed with the first ones.
"